NAMIBIAN DREAMSCAPES
a photographic workshop and round trip
28. apr - 11. May 2019
beautiful and breathtaking namibia
Our 14 days Namibia Photo Tour is dedicated to the landscapes and people that make Namibia so unique and is timed around the humid seasons when the land is at it's most colorful, the skies are most dramatic and the locations uncrowded or empty. Our tour offers so many surprising and amazing encounters with both its people and lands, that it is close to heaven for photographers. Every leg has been carefully planed, from the choice of the new moon nights to the extraordinary permissions to shoot after sunset in Deadvlei and the Ghost Town Kolmanskop.
We will experience everything from the vermillion-gold sands of Sossusvlei, which go from salt flats to thousand foot high dunes, to capturing the haunting mystery of the mining ghost town of Kolmanskop, an eerie place, slowly being devoured by the desert around it and to the ghosty ship wreck of the Eduard Bohlen that lays far away from the Skeleton Coast buried in tons of sand.
The Himba people, a fierce and proud tribe of nomads with skin painted with the desert´s reddish soil, await you during the day, and at night photography sessions in open areas where you can capture images of the purple-rosy stardust of the Milky Way, clearer than you've ever seen it before.
And of course, no trip would be complete without photography expeditions from open top 4x4s with the magnificent animals that call Etosha National Park their home.
our tour highlights
Carefully selected dates, seeking for new moon and the best amazing weather.
Visit to the deserted mining town Kolmanskop, a blend of colourful walls and sand swept buildings with whole dunes inside their rooms.
Amazing early morning and night shots at Sossusvlei and Deadvlei.
2-day Desert Expedition deep into the Namib Desert to the ship wreck of the Eduard Bohlen.
Photographic sessions with Himba people and/or Bushman people at Brandberg Mountains and Spitzkoppe.
how your trip will look like
You can request the Itinerary and Photo Tour details via eMail.
Just put in your eMail address and I will send you the Itinerary and Details via eMail.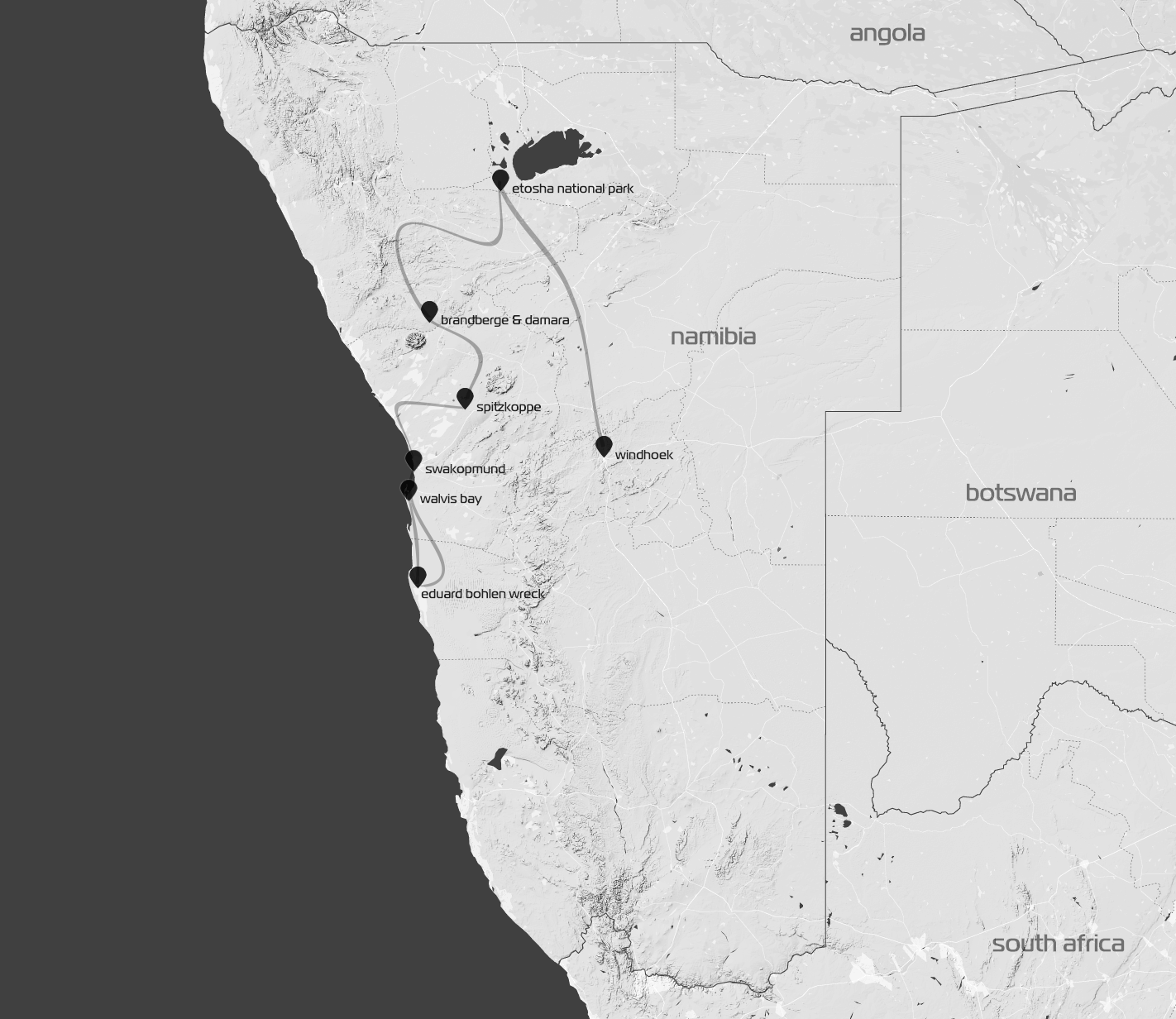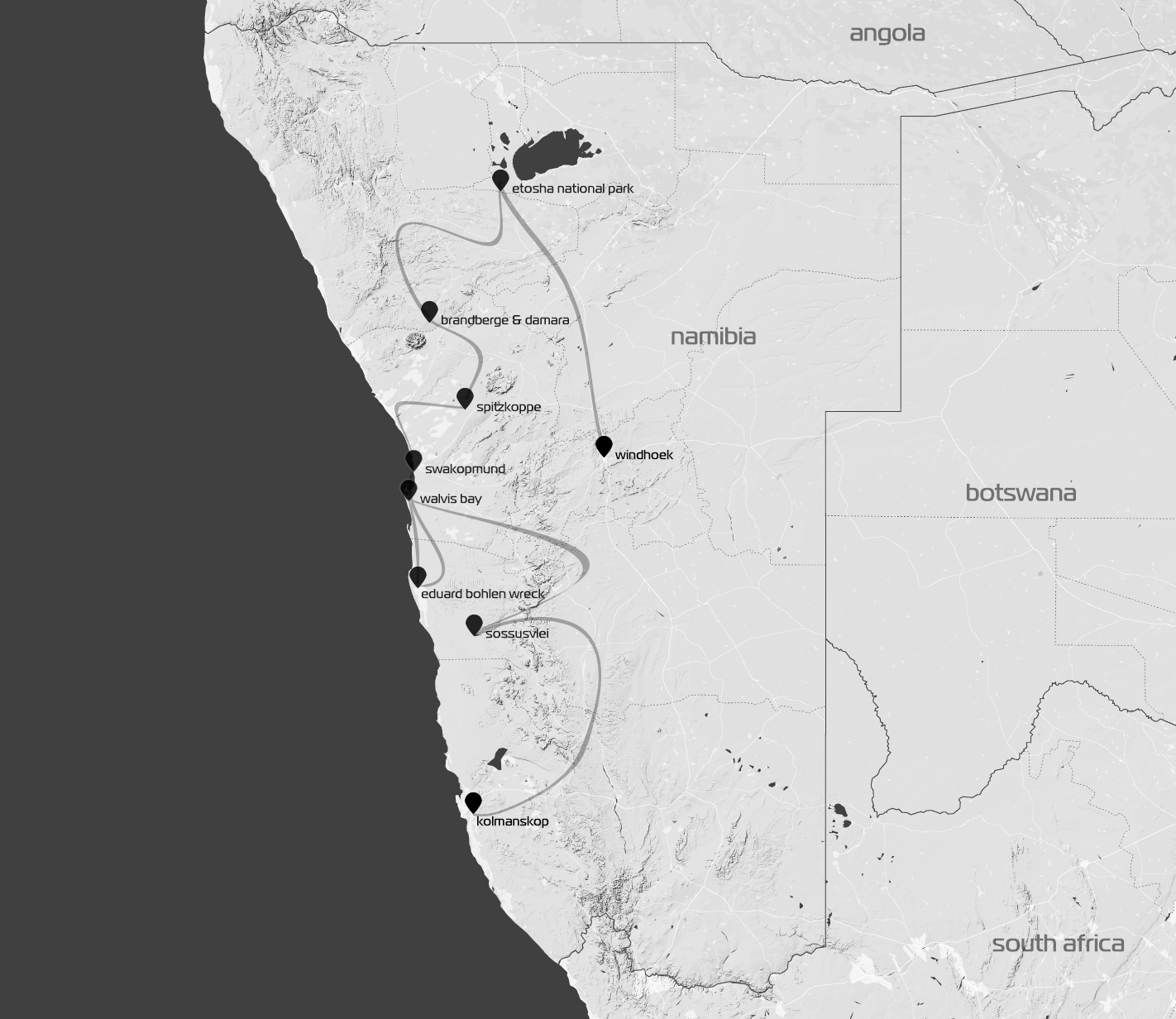 Day 1 - Windhoek
After your arrival at Windhoek International Airport you will meet and greet our tour guide Niel and photographer Thomas who will guide you to our accommodation for the night where we meet the others.

We will use the time to introduce ourselves and to check our photographic equipment and to have a first discussion of shooting technics and compositions.
 One night at Villa Vista Guesthouse
Day 2 - 3 - Etosha National Park
The next two days are dedicated to get relaxed during our several game drives and to enjoy the sounds and soul of mother nature. You will get teached how to capture wildlife with all its differences to landscape photography and how to prepare your camera for this task. But don't worry... we will have a lot of relaxation at our game drives and will still get some very nice captures, promised.

The Etosha National Park is a very special place and is in complete contrast to the desert we passed on our way. The park's main characteristic - the Etosha Pan - is a vast, bare, open expanse of shimmering green and white that covers around 4,800km², almost a quarter of the park. We will also find large camel thorn trees that are mixed with Mopani trees. This diverse vegetation accounts for the abundance of wildlife that congregates around the waterholes and thrives in the park, giving us almost guaranteed game sightings.
 Two nights at Okaukuejo Resort
Day 4 - People of the Damara and Himba and Brandberg Mountains
We will leave Etosha in the morning and start with our Namib road-trip. Whilst driving we will realise a notable landmark suddenly jutting out the surrounding semi dessert of the Namib. The Brandberg or 'fire mountain', a soaring mass of granite, is so called because of the effect created by the setting sun. On its western face, which causes the granite massif to resemble a burning slag-heap glowing red. The highest peak of the Brandberg is called 'Königstein' and is Namibia's highest peak at 2,573m. The Brandberg is a perfect place to meet people of the Himba and Damara tribes in some private photo sessions with red glowing Brandberg mountains as backdrop for some awesome shots.
 One night at Brandberg Lodge
Day 5 - Spitzkoppe
The Spitzkoppe is one of the most magical places in Namibia where you can experience absolutely fantastic starry nights. The highlight is the 'rock bridge' forming an arch which is absolutely beautiful for sunset and also for fantastic night shots with the impressive milky way of the southern hemisphere in your frame. We will experience a night of new moon at Spitzkoppe for stunning night shots and for perfect star trails. In case these are new fields of photography, don't worry, you will be guided through setup and settings whenever you need assistance. We will also visit ancient rock paintings of the Bushman and will meet again Himba people and with luck Bushman for a private photo session.
 One night at Spitzkoppe Mountain Camp
Day 6 - Swakopmund
After our three days spend in the very dry and hot Namib semi desert we will enjoy some refreshing coastal climate at Walvis Bay & Swakopmund. Everyone who wants to relax a bit from photography will be offered a myriad of fun and adrenaline activities in the white sand dunes. But we will also use our time to have some nice sunset shots at the beach or at the grotesque 'Moon Landscape'.
 One night at Strand Hotel Swakopmund
Day 7 - Ship Wreck Desert Expedition
The famous ship wreck of the Eduard Bohlen was wrecked on the Skeleton Coast on the 5. September 1909 in a thick fog and lies currently in the sand dunes 400 meters from the shoreline. The wreck is only accessible by helicopter or by 4x4 vehicles with an expensive and not to easy obtain special permission as access to the Namib Naukluft National Park is highly restricted in most of its areas.

We will leave Swakopmund early and will first stop at the beautiful Sandwich Harbour which is part of the Namib Naukluft Park. The lagoon, salt pans and the bird sanctuary, which form the Walvis Bay Wetlands, are rightly heralded as the single most important coastal wetlands of Southern Africa and habitat to thousands of birds. Giant sand dunes run straight into the ocean, creating breathtaking sceneries and unique landscapes.

In the afternoon we will arrive at the ship wreck and will setup our camp for the next night. We will sleep in tents deep in the desert, hundreds of kilometres away from human civilisation. We will prepare for our sunset shots at the wreck and also for night sky shots, that will be amazing and only a few photographers might have.
 One night in Luxury Tents
Day 8 - Pelican Point and Walvis Bay
After we have taken some sunrise photographs at the ship wreck and had breakfast we will head back to Swakopmund. On our way we will make a detour to the Pelican Point lighthouse and will arrive in our hotel in the afternoon. Now it's time to clean and check our equipment before we start to our next iconic stop the Sossus Dunes in the next morning.
 One night at Strand Hotel Swakopmund
Day 9 - 10 - Sossusvlei
Sossusvlei and Deadvlei are definitively one of the highlights of our trip and offering us endless opportunities for amazing photographs everyone of us will be proud of for ever ;) We will definitively have fantastic sunrise and sunset shots at Deadvlei and Sossusvlei, we will climb dunes and have a lot of joy. As little titbit we will arrange permits* for night shots at Deadvlei to enjoy this amazing sky with some dead of these famous trees.
 Two nights at Sossus Dune Lodge.
* Subject to availability. We will try our best to get this unique experience arranged for you.
Day 11 - Ghost Town Kolmanskop
Maybe you have already seen some pictures of the grotesque ghost town near Luederitz: Kolmanskop is known for its abandoned houses which get sucked in by the Namibs' sand dunes. The rooms partly filled with sand and the roofs already collapsed, this place offers hundreds of interesting shots, which are all absolutely unique. We will spend one whole day here as it needs so much time to explore all the rooms and we will have to shot one by one most of these spots.
 One night at The Nest Hotel
Day 12 - Lüderitz and Ghost Town Kolmanskop
As there are so many different and unique rooms, we will spend again a lot of time in Kolmanskop. But will also explore more from the mining and harbour town Luderitz like the Diaz Point or Shark Point.
 One night at The Nest Hotel
Day 13 - Desert Horses
Now with hundreds more photographs in our bag we will leave Luederitz and Kolmanskop and try to find some wild horses of the Namib on our way to Aus. The afternoon we can use to relax at the pool area and to review our pictures and to reflect our experiences during our amazing trip.
 One night at Gondwana Collection Desert Horse Inn
Day 14 - Windhoek and Departure
Today we will need to drive back to Windhoek as our amazing journey ends here. We can look back at 14 days of breathtaking landscapes that we have experienced in this beautiful country and we can also look back at a rash of pictures and tons of newly acquired knowledge we gained :)

If you're not flying back on this day you are free to extend your stay on your own expense.
your tutoring experience
Identifying Your Requirements
As we arrive at Windhoek and kick off our workshop, Thomas will spend one-on-one time with each of you to identify your photographic level and to determine what areas you would most like to focus on. We will also check your camera equipment, just in case.
One-on-One Attention
Thomas will be on hand at all times to help you with your composition and settings of your camera. There is no better learning opportunity than photographing so many world-class landscapes every day, in the ideal season, under professional guidance all the time. You will also learn the differences to wildlife photography with all its special needs and different approach. The constant presence of a guide ensures a fast learning curve and guarantees that your questions are answered immediately. With our very small group size there will be plenty opportunities for One-on-One attention, assistance and guidance during our two weeks of photography. But all the time we will respect your needs: the level of independence and intensity of tuition is entirely flexible, depending on your individual interests.
Editing
All days we will spend the morning and evening and sometimes the night to be out and shooting. During the days we will often travel long distances with some short photo stops. Thus there is not very much time left to introduce you into serious editing, but Thomas will try to help you whenever you need him for editing questions.
Our Goal
We will discuss everything from the most fundamental basics like settings, usage of filters , through the philosophical aspects of composition and abstract approaches. Whatever it is you would like to learn, we are happy to help out and to transfer our knowledge ton you. We will send you home with great images, tons of new knowledge, fond memories and feeling inspired.
 
some notes regarding the equipment
To get the most out of this photographic workshop I recommend the use of your own camera which you are familiar with and lenses you are used to. Of course we can arrange a lens or camera body rental in case you want to use a second body or you don't have a wide-angle lens for example. Lets get in touch to discuss any further needs.

Aside from your camera equipment you will need suitable outdoor clothing and comfortable walking boots. We are outside the most time of the day and we are exposed to heat and intense sun rays most time of our journey. So please prepare with sun-protective clothing, maybe hats or caps and sun-block. During the nights it can get a bit colder and also during our stays at Lüderitz or Swakopmund we are exposed to the coastal climate which can get rough and breathy sometimes. So a good warm jacket can be useful and keep you smiling while shooting :)
the price and what's included
This workshop is priced at USD 8,100 per photographer sharing with a single supplement for single room occupancy of USD 1,400. Please get in touch with me in case you would like to take your partner with you. There is a USD 2,000 deposit per person required to book your place. The remainder will be due not later than 60 days before the start of the workshop.

The price includes accommodation, all transfers in luxury vehicles during our trip starting and ending in Windhoek, all breakfast, lunch or short snacks during the day and dinners. The price also includes all tourism taxes, park entrance fees, Game Drives & guided walks as well as a desert 4x4 dune excursion to the ship wreck of the Eduard Bohlen. It also includes a professional highly experienced tour guide, a professional photographer and if necessary an assistant.

The price does not include your fare to get to or to depart from Windhoek, fees for Visas, personal insurance, drinks and gratuities.